Senegal, located at the western tip of Africa with an area of 76, 000 sq. miles and a population of 14 million, is an attractive business destination for several reasons:
a stable & open country
modern key infrastructures
a healthy and competitive economy
quality human resources
privileged access to regional and international markets
an exceptional quality of life.
Also, Senegal is a member of two (2) economic zones (WAEMU, ECOWAS), a market of 300 million consumers, and sharing a common business OHADA law with seventeen (17) countries.
Senegal has a good education level. In fact, an important part of the national budget is allocated to Education and Health, so a large number of prestigious public and private schools train lot of high skilled workers, managers and experts.
In addition, Senegal has enacted an investment code which offers an attractive incentive package to investors:
no discrimination between nationals and foreigners
no limitation in employing expatriates
guarantees & Protection of property rights
guarantee of the provision of foreign exchange
guarantee of transfers of capital & earnings
fiscal and non-fiscal benefits.
SENEGAL INVESTMENT CODE SUMMARY
Garantees

Eligible activities

Nature of investments for specific activities

Investment floor prices

Commercial complex

Harbour

Railways

Airport

30 000  USD

200  000 USD

No discrimination between national and foreigner
No limitation in employing expatriate
Guarantee of the provision  of foreign exchange
Guarantee of transfer of capital and earnings
Access to raw material
fiscal and non fiscal benefits

Fishing and livestock breeding and processing

Education and health

Assembling industrial equipment's maintenance and teleservices

Manufacturing and processing activities
Mining and mineral resources processing
Tourism
Cultural industry
Energy
Infrastructures harbor
Railways; airport facilities
Commercial complexes
Industrial parks; touristic areas; cyber-villages and craft centers

Reserved areas for the complex administration
Commercial areas and offices
Delivery areas service and supply entrances parking lot, trucks access
Pedestrian alleys

Fixed equipment installation
Investments made in order to improve the assistance brought to boast at the embarkation and unloading
Storage and conservation capacities increase
Facilities for improving the harbor traffic

Equipment
Facilities linked the production or exploitation

 Equipment
Storage and conservation capacities increase
Technical and commercial premises intended for the airport activities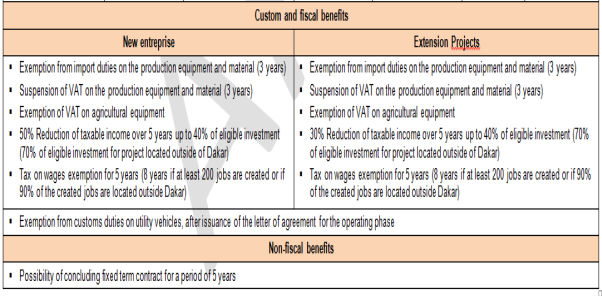 FREE  EXPORT COMPANY STATUS
Garantees and Privileges

Admission Criteria

Benefits

Entreprises

Goods

Free transfer to countries outside the franc area of the funds required for their investment as well as for the commercial and financial transactions
Free transfer of salaries for foreign employees
Free transfer of foreign shareholders dividends
Free hiring of personnel
Arbitration by the international Centre for the Settlement of Investment disputes

Status granted to companies exporting at least 80% of their production

Exemption from customs duties and stamps for production and transportation equipment, wages taxes, business license taxes, etc;
Exemption from all forms of taxes based on salaries
Securities income deducted from distributed dividends
Corporate tax at 15% instead of  30% (ability to deduct 50% of the taxable income which reduce corporate tax to 15%

Concessionary companies are still subject to geological, mining or forest fees and charges

Duty free export and import of capital goods equipment, raw materials finished and semi-finished products
Duty free on local purchases
Goods may remain under a storage procedure for an unlimited period of time
Possibility to sell part of the production on the local market (up to 20 % of the turnover)
No restriction with  respect to flags flow by vessels transporting goods
A new Public-Private Partnership Law enacted to improve implementation procedures
New Law enacted on February 10th, 2014
 New PPP council to ensure more transparency during the selection process as well as competency of partner
 Possibility of directly selecting a partner based on an unsolicited bid if the project cost is > 500 million US $
 Possibility of direct agreement subject to certain terms and conditions
 Improvement of the tender process duration : 7 to 12 months vs 18 to 24 months (previous BOT Law)
Since 2013 Senegal has put in place a program in order to reform its business climate  and competitiveness. Thus, more than fifty measures have been identified; with 19 urgent implemented in 2013 and 37 more by the end of  2015.
All these measures aim at:
Automation of administrative procedures:
Improving the competitiveness of production factors:
setting incentives and simplified tax scheme:
Promotion of high-impact investment.
At the end, the goal is to improve Senegal's performance in world rankings and also make our country one of the 10 most attractive investment destinations in Africa.
More details can be found in the web site of the Senegalese Investment Promotion body:   APIX
Contact: APIX S.A, 52-54, rue Mohamed V, Tel : + 221 33 849 05 55,  Fax: +221–33-823-9489,  Email : apix@apix.sn
Site web : www.investinsenegal.com
Senegal  is a land of many business opportunities:
AGROBUSINESS :   Our Assets
4 million ha of arable land equivalent to  385 ha per  1, 000 inhabitants (world average is 86 ha per 1, 000 inhabitants)
35 billion m3 of renewable fresh water resources with 4 billion m3 of underground fresh water resources
240, 000 ha of irrigable land available in the northern Delta valley
Important hydrological potential (underused in some areas of the country)
TOURISM : Our Natural Assets
700 kms of waterfront
Strategic geographical location
Nice weather (3, 000 hours of sunshine/year)
Warm temperature (25°C)
500 kms of sandy beaches
UNESCO registered World Heritage sites
Around 20 international airlines
5 hours from European capital cities
7 hours from USA
SOCIAL HOUSING
Housing for each Senegalese family: aiming to enable civil servants and middle class Senegalese to own a house
Construction of 5 000 housing units in 2014 and 10 000 units per year starting from 2015
Primary servicing of the land : installation of water and electricity networks by the state (secondary and tertiary networks are the promoter's responsibility)
ICT AND TELESERVICES
 Senegal, at the crossroads of international high speed networks
 A totally digitized high-speed network nationwide with a 6000 km loop of optic fiber offering a range of various services (ADSL, Frame Relay, RNIS, VSAT etc.)
 International bandwidth : 12.4 Gbps (2012)
 Quality and competitive labour          
Port Infrastructure
Dry/Cereal Port of Kaolack:  60 million US $
Deepwater port of Kaolack (Saloum):  7.2 million US $
Ore port Bargny: 514 million US $
Road Infrastructure
Highway Diamniadio-AIBD  and  Thiés -Diourbel- Touba : 800 million US $
Highway Mbour-Fatick-Kaolack:   760 million US $
Railway Infrastructure
Dakar-Kédougou-Bamako railway line (rehabilitation): 2 billion US $
Dakar's Tramway project: 750 million US $ Dakar-AIBD Airport railway line : 200 million US $
Industries / Services & Social Housing / Living
Integrated Special Economic Zone in Dakar (Diass - AIBD) 718 ha (50 ha priority phase): 90 million US $
Social Housing program (Dakar, Louga, Thies, Kaolack, St. Louis, Ziguinchor, Kolda, Kédougou): 1.1 billion US $
Business City " (Dakar Region): 540 million US $
Education & Health
2nd University of Dakar: 200 million US $
Social infrastructure in public universities: - Campus (100,000 new beds by 2020) in Dakar, Saint-Louis, Ziguinchor and Diamniadio)
University restaurants, medical centers : 500 million US $
Aristide Le Dantec Hospital (rehabilitation): 92 million US $
Cancer Center: 31 million US $
Agriculture and Livestock
 Clustering projects focused on horticulture: 178 million US $
 Development of Agricultural Storehouses ( Grain Corridors): 620 million US $
Tourism
 Touristic development of the Joal-Finio island called "the seashells island "800 m long": 16 million US $
 Touristic development of the Mbodiéne area:  406 million US $
 Touristic development of Pointe Saréne:  282 million US $
DAKAR INTEGRATED SPECIAL ECONOMIC ZONE (DISEZ)
Project Description
Location : Rural Community of Diass, an area 45 km from Dakar and adjoining the new Diagne International Airport. Site n°1 (718 ha) is next to
the new airport AIBD and Site n° 2 (14,000 ha) is situated along the RN1 and extends to the shore.
Description: A site for economic activities providing quality services under specific administratition, with tax and customs benefits.
Components:
Construction:
· Warehouses covering an area of over 5 ha
· Office spaces and a logistics platform over an area of 5 ha
· 5 ha for a cargo Village next to the Blaise Diagne International Airport
· 40 ha of serviced land dedicated to businesses implementation
Cost: 90Million US $
Funding: Public-Private Partnership
Sate of Progress
· Feasibility studies completed;
· Comprehensive technical studies for the development of the priority phase under progress
· Implementation to realize
DAKAR TRAMWAY
Project Description
Components :
Construction of a 35 km system of Tramway in Dakar ;
Installation of equipment and rolling materials (railways , trains , electrical sub- stations) ;
Construction of platforms, stations, signals and staff training ;
Building and equipment of a maintenance center and also a command and supervision position
Cost : US $ 750 million
Funding : Public-Private -Partnership